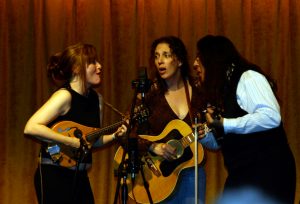 Woodstock – New York, Wakefield – Québec-as-in-Canada and Breaux Bridge –
Louisiana, a feminist folk trio with a seriously original sound created by three of the most temperamental, romantic, down-to-earth, tolerant, funky, maternal, independent, impassioned, politically opinionated, completely-unlike-one-another, singer-songwriter-instrumentalists you've ever had the good fortune to know. They are Lisa Markley, Gina Forsyth and Beth Cahill on guitar, mandolin, fiddle, banjo, killer harmonies, and a veritable smörgasbord of contemporary and traditional compositions that will have you coming back for more.
Et en français (Merci Jan!! – Jan est notre traductrice)
malvinas– Louisiane/Woodstock/Québec – Acoustique et racines
Avec des racines ancrées un peu partout en Amérique du Nord – The Malvinas, trio féminin formé Lisa Markley, Gina Forsyth et Beth Cahill, possède un son sérieusement originel. Capricieuses, romantiques, terre-à-terre, tolérante, géniales, maternelles, indépendantes, passionnées, politiquement opiniâtres, et complètement différentes chacune des autres, elles travaillent dur:guitares, mandoline, violon, banjo, harmonies éblouissantes, et toute une gamme de compositions incluant : du blues du Sud profond, les saveurs épicées de la musique louisianaise, la musique celtique et la tradition des auteurs-compositeurs-interprètes.
Check out  –  God Bless the Grass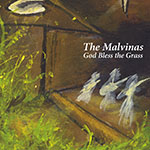 Available from the wonderful independent
Soona Songs
record Label